Ch. Rebelcreek's Moosin' Around ...
A Rebelcreek Golden Retriever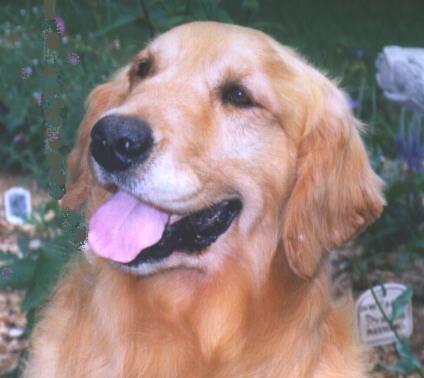 This is Moose, a wonderful Golden Retriever. Moose was born March 5, 1991. He is the son of Ch. Glenru's Rusty Nail CD (Rusty) and Ch. Stonehedge Ragweed Tapestry (Cotton). Moose is truly a beautiful golden retriever.
At the high end of the Golden Retriever breed standard, Moose stands 24-1/2" at the shoulders and is approximately 90 pounds. His coat is medium gold, and is long and dense with excellent thickness of undercoat. He carries full feathering and a lovely mane. Moose is a large boned and is an impressive golden retriever. Moose had a very successful show career, attaining his championship at a young age and going on to win multiple group placements. He has been retired from showing for several years now, preferring to stay home and have fun being a goofy golden retriever.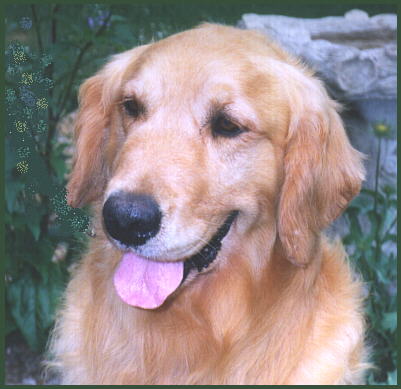 The world is a wonderful place according to Moose. At 7-1/2 he is fun loving, energetic and loves to play, especially retrieving. He's a big Schmoozer and loves to cuddle. Very gentle and kind, he is a favourite with children. Moose has the perfect golden retriever temperament and life would never be the same without him.
















Rebelcreek Golden Retrievers
About Golden Retriever Puppies
Current Golden Retriever Litters
Gallery of Golden Retrievers Your New Golden Retriever Puppy Sales Agreement for Golden Retriever Puppies
Shipping Golden Retriever Puppies Boarding Your Golden Retriever at Rebelcreek Contact Rebelcreek Golden Retrievers